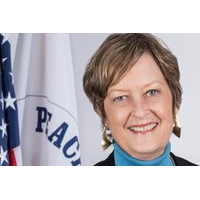 Returned Peace Corps Volunteers of Colorado is pleased to announce an online interview
with Peace Corps Director Dr. Jody Olsen at 6:00 PM on November 5th.
Dr. Olsen began her career as a Peace Corps Volunteer, serving in Tunisia from 1966-1968. She has since served the agency in multiple leadership positions—as Acting Director in 2009; Deputy Director from 2002-2009; Chief of Staff from 1989-1992; Regional Director, North Africa, Near East, Asia, Pacific from 1981- 1984; and Country Director in Togo from 1979-1981. Dr. Olsen is serving in a challenging time where decisions about Peace Corps Volunteer in the time of COVID are at the forefront of the agency. We expect that this and other topics will be discussed during the interview.
Dr. Olsen will be interviewed by two our noteworthy members. Jeannie Ritter RPCV Tunisia, is a past First Lady of Colorado and works for Mental Health Center of Denver. She will be accompanied by Suzanne Smith RPCV Mongolia, is the current past president of RPCVCO and currently serves on the board as advocacy chair.
Because there is limited seating for this zoom event, this is currently being offered only to members. If you'd like to attend, please go to https://www.rpcvcolorado.org/events/an-interview-with-pc-director-dr-jody-olsen to get a free ticket. We will do follow up emails to those who are expired members with more details on renewing your membership; if you are financially stressed due to the COVID economy we offer you a free Welcome Membership. We will also be in contact with you if you have never been a member but in our contact list as on how to take a First-Year Free membership.
We are also compiling questions from our member for the interview. What would you like to know from Dr. Olsen? You can enter questions in our clicking here.
Look forward to seeing you virtual on the 5th.
---