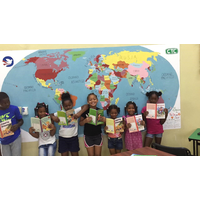 By RPCV Jordan Mathews
Jordan is a Rotary Peace Fellow about to start her studies at Uppsala University, Sweden
From 2016-2018, I served in the Peace Corps as a Youth Development Volunteer in a rural town, Gonzalo, Monte Plata in the Dominican Republic. For those of you of you familiar with the work of Peace Corps Volunteers, you will know that the work is slow, often ambiguous and it takes a whole lot of trial and error, emphasis on the "error," before something sticks. One of my sticking points came from the work I was doing with my counterpart, Leo, the Director at our community's local Community Technology Center (CTC.)
The CTC is a government supported community space where kids and adults can go to do their homework, learn new skills and just have a safe place to congregate. At this center there is a preschool, a computer lab and a library, all programs that I have seem immensely positively affect our students. During my service, I spent countless days in the library. Not only was it one of the few places with somewhat reliable electricity, it was where I was able to see and connect with the kids and members of our community. Though I was not an education volunteer, while spending time in the library, the need for supportive literacy programs became obvious. Globally, the Dominican Republic falls low on literacy rates, as a way to help combat this, our CTC had tried time and time again (mostly unsuccessfully) to create reading groups for kids. However, as I began looking at the books available, the majority of books available were dense historical non-fiction, books that were not conducive to sparking the interest of young curious minds learning how to read. I wanted these kids to know the feeling that came with being completely enveloped in a story, the intense desire to read the next page or finish the next chapter in the book.
My counterpart and I decided that it would be beneficial to get new books for the library that would inspire curiosity and excitement for young readers, but as we began exploring avenues to do that, we realized it would be much harder and much more expensive than anticipated. After months of looking into different options, we were not sure if and how we would be able to achieve this goal. But as soon as we began to feel defeated, I received an email from the Education Program Manager for PCDR about the Rotary Give-a-Book program, letting us know that select schools and centers would be approved to receive donated books in Spanish! It was an answered prayer.
Excited, I told my counterpart and we reached out right away, soliciting books for our CTC. Later we learned that our community had been approved and would be receiving books for our library. Because of this amazing program made possible by the generosity of Rotary members like yourselves, Gonzalo's CTC received a box full of beautiful books that will allow a generation of young readers to tantalize their curiosities and explore the world, near and far, through books. For this, I am so grateful for the partnership that exists between Rotary International and the Peace Corps, so that more moments like this can be created for communities across the globe.
---