The National Peace Corps Association (NPCA) is partnering with the film maker for A Towering Task on a crowd funding campaign, which launched on March 1, 2016. The RPCVs of Colorado have agreed to help support efforts to produce a documentary on the Peace Corps experience. As part of this effort, the RPCVs of Colorado will match member donations up to $500 (for a total donation of $1000) for A Towering Task. More about our support can be found here.
Brief information about the crowdfunding campaign is found below and with more details found here. If you donate directly to the film, This email address is being protected from spambots. You need JavaScript enabled to view it. so we can ensure it is included for the matching donation!
Tell our story.  Ignite our community.  Recommit to Peace. 
Imagine what our country would be like if everyone served in the Peace Corps?
Since 1961, more than 220,000 Americans have served as Peace Corps volunteers in 141 countries around the world. We served our country and committed to peace through cross-cultural understanding. Despite our commitment and the Peace Corps' reach, many Americans today have no idea that the Peace Corps still exists.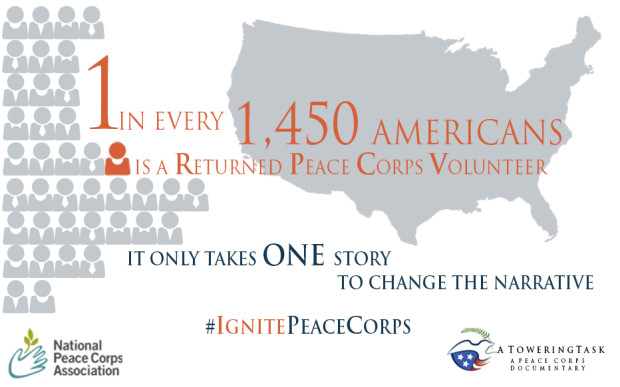 NOW is the time to tell our story and ignite our country's understanding of the power of Peace Corps:
Be Part of the #IgnitePeaceCorps Movement
Fund the production of A Towering Task: A Peace Corps Documentary that will take an in-depth and objective look at the Peace Corps Agency.
Support the Peace Corps community through the National Peace Corps Association (NPCA) by leveraging our collective power to advocate for a better Peace Corps and increase development impact by funding Returned Peace Corps Volunteer-led initiatives.